LADAKH- AN UNFORGETTABLE SAGA
I might not be able to keep close to you forever, but I shall hold on to the feelings you evoked,
And the memories and thoughts, that you so tenderly stroked!
In winters, the silent puffs of falling white, glistens your day and shimmers the night,
I shall yearn for those mountain peaks, covered in snow- pearly and light!
On your frozen lakes, dances the silence with poise, grace and in utmost glory,
With starry night and the gleaming sun being witness to this arresting story!
Unforgettable shall be the pride, with which the tall bare trees stand on your slopes,
With nothing to shield and nothing to hide, and yet like the harbinger of hopes!
I shall not forget the whiff of the crisp air, that moves through your glaciers and peaks,
Carrying with it the snowy breath, kissing my forehead and blowing upon my cheeks!
I Shall remember the symphony of the waves that your exuberant rivers composed,
In consonance with their rocky shores, as if they were about to be proposed!
How can I forget the beautiful motif that the Sia* flowers create on the carpet of Spring!
To give you a welcome, reserved only for the imperial and the majestic King!
The exquisite and tender blooms of apricot* go onto adorn your crown,
Like a true emperor, you observe all and pay attention to everything around!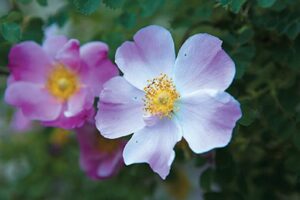 People who have found their abode of peace in the folds of your peaks,
upholding their purity, much in concurrence with their surroundings, or so to speak!
In the customs and rituals, in the heritage and traditions and in all aspects of their lives,
I discerned your presence and slowly understood how this all survives!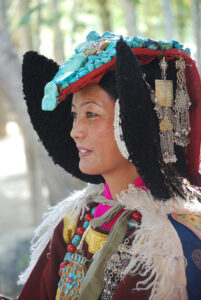 heritage carried with pride
Cannot be forgotten either, the soldiers in the convoy, moving on your winding road,
Leaving the trail of courage and valour, on a sunny day or even when it snowed!
On the Tiger hill and the Tololing Heights, On Chushul  or in Kargil- the sagas are much famed,
Your court is strewn with the stories of fearlessness and endurance- in you, it's so ingrained!
The pages from your painting book of landscapes, that you turn at your every bend, will stay in my heart,
The innumerable moments spent with you, shall continue to be my most significant part!
O Ladakh! I might not be able to keep close to you, but I shall hold on to the feelings you evoked
and the memories and thoughts that you so tenderly stroked!
Copyright © Aradhana Mishra
Photographs – Aradhana Mishra
*Sia- Wild roses found abundantly in Ladakh, after which Siachen has been named! 'Chen' means flower!
*Apricot- It is said that the variety of apricot found in ladakh , locally known as Raktsey Karpo, is the sweetest variety of apricots in the world.